Liver in red wine sauce with roasted swedes
Breakfast
: Rolled oats with kiwifruit and linseeds
Lunch
: Liver in red wine sauce with roasted swedes
Dinner
: Flatbread with liver and mushrooms
Baking/sweets
:

Beetroot cupcake

with chocolate daim glaze, apple pie with custard (
½
serve)
The beetroot cupcake was really nice. It is the first time I have made or eaten beetroot cake and it is certainly not the last. Beetroot cake is similar in concept to carrot cake but less popular, probably because carrots are more readily available than beetroots. One of the appealing aspects of cooking with beetroot is the beautiful red color. The beetroot cake dough looked really nice though it lost some of its red color during baking. When it comes to good looks, beetroot is unbeetable!
Liver in red wine sauce is a great combination, the rich sauce nicely complements the irony liver taste. It is the first time I tried this, and certainly not my last time.
Peanut butter, chocolate and coffee cookie bars. The picture speaks for itself!
Pairing food and wine is common. Many of us are comfortable with the basics– matching red meat with red wine for example. Beyond the basics and we start appreciating sommeliers as people. Pairing food with movies requires another set of skills - knowledge and appreciation of movies, creativity and culinary skills. Eat Tori has taken on the challenging task of pairing food with different films nominated for best picture at this year's Oscars. Black Swan is up first. And "blackberry and chocolate smothered panna cotta" is concocted as the ideal pairing. While my knowledge and interest in movies is rather slim I managed to draw parallels, visually at least. You be the judge.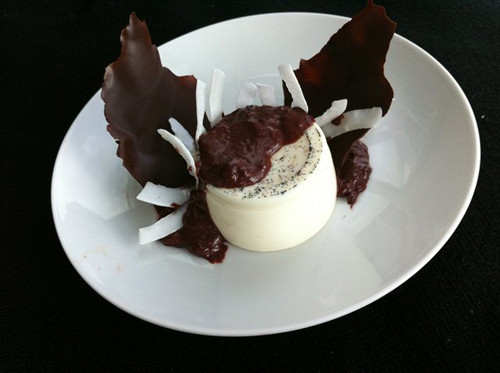 ~~~~~~~~~~~~~~~~~~~~~~~~~~~~~~~~~~~~~~~~~~~~~~
~~~~~~~~~~~~~~~~~~~~~~~~~~~~~~~~~~~~~~~~~~~~~~