Breakfast
:
Scrambled egg with carrot bread toast
Lunch
:
Spicy harissa mustard herring with rice
Dinner
:
Vegetable and egg fried rice
Baking
:
Banana cupcake
I made the herring by first toasting mustard seeds, sauteeing garlic, onions and harissa, adding herring and cooking on medium heat until done. The whole meal was done in about 10 minutes. Herring has a nice flavour, its delicate and one of the top 4 healthiest fish with high omega content. The more herring you eat, the smarter you will become.
The banana cupcake I had after lunch was made using frozen dough. I usually freeze part of the dough for later use. I find that freezing does not affect quality at all and its always nice to have different options available in the freezer. I have previously baked cakes and cookies without defrosting the dough and this didn't affect the quality either.
While talking about cakes, yesterday I found a very interesting recipe for a moist chocolate cake, using the water roux method to increase the 'moistness'. I will try hopefully sometime this week...watch this space for the outcome and recipe
Today's Favourite Blog
Sparklette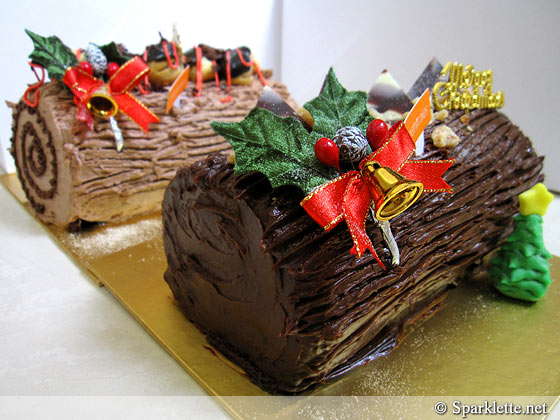 The picture explains why its my favourites blog today. There is a saying "you first eat with your eyes" - my eyes have eaten and are truly satisfied, now I would like to eat those logs...
There is a Russian saying "its better to see it once than to hear about it a hundred times" so I present the photo courtesy of Sparklette rather than spend many words describing it:)