Roasted root vegetables with baked egg and onion
Breakfast
: Rolled oats with sultanas, toasted coconut, sunflower seeds and linseeds
Lunch
:
Roasted root vegetables with baked egg and onion
Calling the
baked spinach savouries
cookies is perhaps stretching the definition of cookies a little bit. What is a cookie? The trusted wiki alludes to the sweet version but there is no common definition. There is actually a lot of confusion when it comes to defining cookies. A cookie in US is biscuit in most other countries, a cookie is a bun in Scotland, a biscuit is a scone in the US, a cookie is generally chocolate chip cookie in UK and therefore my
baked spinach savouries
is a cookie. And even better, you can have them for dinner without feeling guilty! And without your mum telling you to stop eating cookies because it will ruin your appetite.
Today I went a step further and also made the equivalent of chocolate chip cookies by adding adzuki bean sprouts. And this is what they look like:
The 'chocolate chips' partially retained their crunch. I liked both plain and chocolate chip cookies.
In case you haven't eaten Korean food for a while, or never eaten it, this is perhaps a friendly reminder! A Korean friend told me that ideally a Korean meal should comprise of ingredients with 7 different colors. Different colored ingredients contribute a different nutrient so the meal is more balanced. Taste of Home's meal is certainly balanced.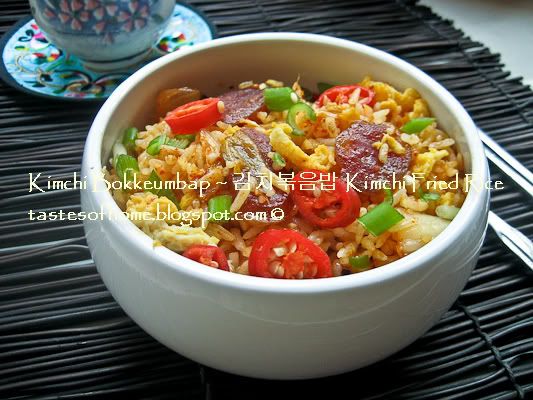 An excellent collection of kitchen tips. Some interesting tips include:
If you happen to over salt a pot of soup or a stew, drop in a peeled potato. The potato will absorb the excess salt.

When baking bread, do not preheat your oven. You will be amazed at the resulting lightness of the bread.

Store tomatoes with their stems pointed down and they will stay fresher, longer.
~~~~~~~~~~~~~~~~~~~~~~~~~~~~~~~~~~~~~~~~~~~~~~
~~~~~~~~~~~~~~~~~~~~~~~~~~~~~~~~~~~~~~~~~~~~~~